Habitat 67 guided tours
are back in 2022!
Tickets for the July tours are now available.
New dates will be announced until October 2022.
To celebrate its 55th anniversary, Habitat 67, Montréal's architectural icon, is once again opening its doors to the public. After 2 seasons limited by the pandemic, the 2022 season will offer more sessions in both languages. With the return of warm weather in Montréal, locals and tourists are invited to a unique visit to the heart of the Expo 67 legacy. Located in the Cité-du-Havre, facing the Old Port, Habitat 67 offers breathtaking views of the city and unparalleled architecture. Book your tickets now! Tickets for the June/July tours will go on sale now for $50 (tax/fees included). Tours will be held through October 31, 2022 and subsequent tickets will go on sale depending on availability. Subscribe to the newsletter for announcements.
During the 90-minute tour, visitors will get an inside look at the exceptional vision behind the unique modular design of Habitat 67. Once again this year, Moshe Safdie's unit, fully and meticulously restored in 2018, is part of the tour. Taking advantage of Habitat's superb location and terraces, visitors will enjoy the sights of the city from a different perspective.
A giant inhabited work of art
Recognized as a heritage site by the City of Montréal in 2007 and by the Québec government in 2009, Habitat 67 is a giant work of art, symbolizing the modernism and hope of Expo 67. The 354-block complex has a community of 300 residents in 148 apartments with 1 to 4 blocks.
For 55 years this year, Habitat 67 has marked the Montréal landscape and Moshe Safdie's first creation continues to influence architecture worldwide. Habitat 67 guided tours allow the public a closer look at this exceptional building while learning about the context of Expo 67 and the challenges inherent to building such an architectural work.
About the Habitat 67 2022 visits:
Book your tour in English
Did you know?
Kids under 12 years of age accompanied by an adult may visit Habitat 67 free of charge (as long as tickets are available). A unique family outing combining history, geography, architecture, design, physics and...geometry! Booking mandatory.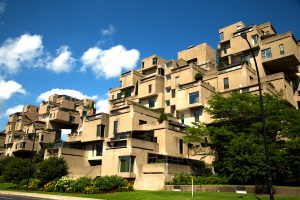 Once again in 2023, Habitat 67 opens its doors to the public! Book your tickets now at habitat67.com!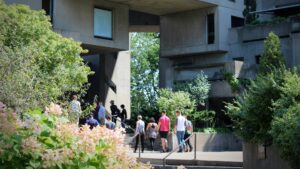 Passionate about history and Expo 67? Join our team of guides for the Habitat 67 guided tours, from May to October 2022.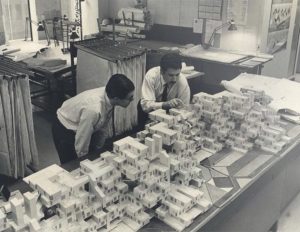 LEGO blocks played an important role in the design of Habitat 67. Review the original models and Lego reconstructions.