Mission Expo

A playlist by the NFB
Image credit: screen capture – NFB
Expo 67, which celebrated its 50th anniversary in 2017, generated thousands of miles of film. Among the archival material that really gives you a sense of place is Impressions of Expo by William Brind, produced by the NFB.
Through Brind's editing, transport yourself aboard the Expo-Express, a helicopter and even Expo's hovercraft to discover the scale of the Expo 67 site. During this journey, Habitat 67 is front-and-center: a must-see on the Expo-Express route, Habitat was also located very close to the hovercraft base on the Cité-du-Havre. Even today, you can still see parts of its launch pad.
Image credit: screen capture – NFB
"An eight-minute wordless trip through Expo 67 replete with groovy 1960s music! You will see the USSR's pavilion, the Monorail, Habitat 67, the American pavilion, a hovercraft, the Katimavik, and some creepy clowns. A perfect way to get a feel for what Expo was all about. The nostalgia factor is through the roof."

Click here to consult to see other NFB films about Expo 67

Share

Share on facebook


Share on twitter


Share on linkedin


Share on email


Share on whatsapp


Share on pinterest

Book your ticket for the Habitat 67 tour now!


All about the guided tours
Schedules, practical information, sanitary measures, etc.

Latest news
Habitat 67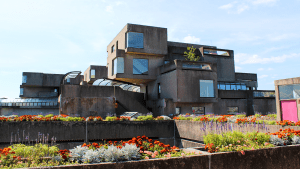 13 juillet 2021
Habitat 67 annonce le retour des visites guidées de l'icône architecturale de Montréal dès le 27 juillet 2021. Réservez maintenant, places limitées!
12 juillet 2021
Objectif Expo: un dossier de l'ONF qui vous fait visiter le site de l,Expo 67 à bord de l'Expo-Express, en hélicoptère et en…aéroglisseur!
17 mai 2020
Participation d'Habitat 67 à l'émission Mise-à-Jour Montréal diffusé à MaTV suite à la consultation de l'OCPM (Bridge Bonaventure).