Starting July 27 2021
Habitat 67 guided tours are back!

After a forced break in 2020 due to COVID-19, Habitat 67 is proud to announce the return of its guided tours, starting July 27th. These tours give VIP access to this jewel of the world's architectural heritage. Since launching in 2017, more than 15,000 visitors have come to visit the emblem of Expo 67, located on the Cité-du-Havre, facing the Old Port. Book your tour now!
During the 90-minute tour, visitors will discover Moshe Safdie's unique vision behind the Habitat 67 project, its unique modular design, appreciate its incomparable location on the terraces and visit the interior of a residential unit. Indeed, Moshe Safdie's own unit, thoroughly and meticulously restored in 2018, is once again included in the tour. To see the city from another angle and discover the approach that guides all of the projects of the man who remains, even today, one of the most renowned architects on the planet, these visits have become a must for all generations.
A giant work of art
Moshe Safdie's first creation has marked the Montreal landscape for over half a century and continues to influence architecture worldwide. The guided tours of Habitat 67 allow the public to appreciate more closely this exceptional building, recognized as a heritage complex by the City of Montreal since 2007 and by the Quebec government since 2009. A giant sculpture, Habitat 67, symbolizes the modernism and hope of Terre des Hommes/Man and His World.
Limited tickets in 2021
The first tours will begin on July 27 and will go on sale for $35 (taxes/fees included), tickets will go on sale starting July 15. Booking is mandatory.  Groups are limited to 10 persons, which means there will be limited tickets for this new season. Due to the residential nature of our building, sanitary measures, such as mask-wearing, have been put in place. Please consult the complete sanitary measures in effect at Habitat 67. Prepare for your visit with our Frequently Asked Questions and directions to Habitat 67. Please note that due to work on the Concorde Bridge, the Dieppe Park parking lot is not accessible. However, BIXI recently installed a new station near Habitat 67.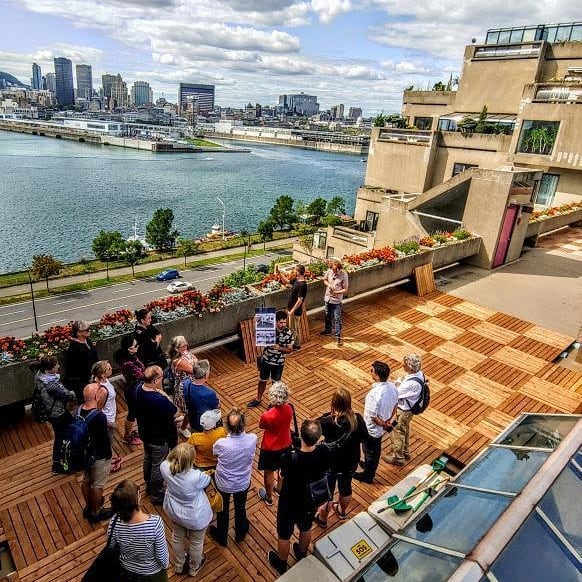 Guided tour in English (dates coming soon)
Visite en français
More dates to be announced soon – guide recruitment underway
As the guide recruitment process continues, new dates will be added as the weeks go by, including Saturdays and Sundays. Follow us on social networks and subscribe to our newsletter to make sure you don't miss any new announcements.
Share

Share on facebook


Share on twitter


Share on linkedin


Share on email


Share on pinterest


Share on whatsapp

Latest news
Habitat 67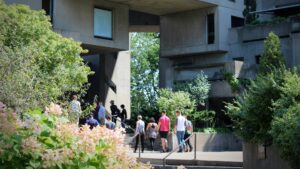 15 juillet 2021
Passionné.e.s d'histoire et d'Expo 67? Rejoignez notre équipe de guides pour les visites d'habitat 67, du 27 juillet au 31 octobre 2021.
13 juillet 2021
Habitat 67 annonce le retour des visites guidées de l'icône architecturale de Montréal dès le 27 juillet 2021. Réservez maintenant, places limitées!
12 juillet 2021
Objectif Expo: un dossier de l'ONF qui vous fait visiter le site de l,Expo 67 à bord de l'Expo-Express, en hélicoptère et en…aéroglisseur!