Guided Tours are suspended Until Further Notice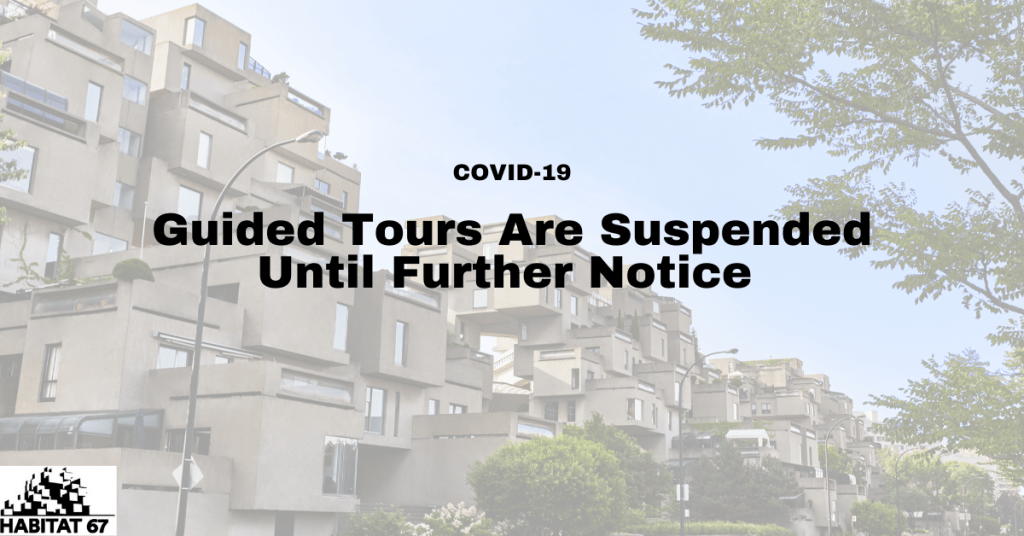 Dear visitors,
Due to the current Coronavirus pandemic (COVID-19) and per the directives of the City of Montreal and the Government of Quebec, we must suspend all visits to Habitat 67 until further notice. The health and safety of our visitors, employees, and residents of Habitat 67 is a top priority.
Ticket holders for visits between May 1 and July 2 will get reimbursed automatically. The refund will be charged to the credit card used during the purchase.
We will notify ticket holders for the following dates if other cancellations are confirmed. However, we understand that the current pandemic could have an impact on your travel plans. Therefore, we offer you to transform these into a gift certificate or to refund your purchase.
For any additional questions about Habitat 67 guided tours, ticketing and refunds, please contact us by email at info@habitat67.org.
Until we can welcome you back to Habitat 67, we wish you all health and safety during this difficult time.
For the peace of mind of our residents, we remind you that Habitat 67 is a private residential complex and that access is prohibited outside of the organized tours. Thank you for your collaboration!
#cavabienaller